Analysis of the month (February): NOx emissions by vehicle
February 2, 2018
Although humans have the ability to grasp things very quickly they happen to overlook the obvious with a surprising persistence. Sometimes it helps to use the unbiased view of AI to overcome this persistence. Take the following pattern for example:
When analysing the vehicle emission test data form the American Environmental Protection Agency our AI found that models from three German car producers show very high standard deviations in nitric oxide (NOx) emissions. Putting it into less technical terms, the emissions of NOx, the main pollutant connected to the diesel scandal, deviated strongly between different test runs of the same model. Two of those producers have been connected to the diesel scandal, one hasn't, while the topic still is dominant in German media: Süddeutsche Zeitung just published an article concerning Audis involvement.
Would you like to see more results concerning emissions by car? Request a demo to see our AI live in action!
---
Inspirient wins the global BNP Paribas International Hackathon
December 4, 2017
We are still overwhelmed with our win of the BNP Paribas (BNPP) International Hackathon in the category "international integration & scalability", out of 160 startups that competed.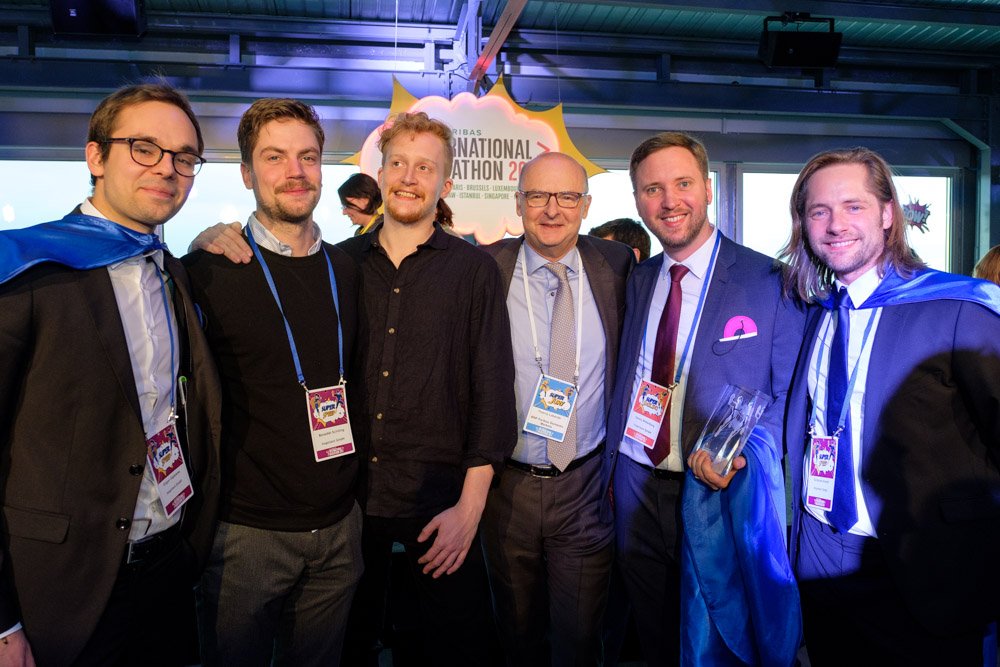 However, the win in Paris was only the tip of the iceberg of our collaboration with BNPP in the last months. Following the win of the regional competition in Berlin this summer, to get us into the finals, we intensively worked together with the risk team of Consorsbank / BNPP Personal Investors to develop a prototype for an AI-driven fraud detection solution. Following the three months of intensive collaboration, we then pitched the solution to the jury of BNPP executives in Paris – who were convinced! We are super happy that the hard work paid off! You can read more here.
---
Analysis of the month (November): World Bank Development Indicators
December 3, 2017
This month we had our AI analyse global development indicators collected by the World Bank. The dataset analyzed provides development indiciators for 217 economies from 2007-2016. Here are the most interesting results.
---
Analysis of the month (October): USAID Supply Chain Shipment Pricing Data
October 30, 2017
This month we had our AI analyse health commodity shipment and pricing data from the United States Agency for International Development (USAID). The dataset provides information about Antiretroviral and HIV lab shipments to countries supported. Also the supply chain expenses of moving the commodities to countries and the pricing of the commodities are provided. Here are the most interesting results.
---
Analysis of the month (September): Social Progress Index 2017
September 29, 2017
The Social Progress Index measures 128 countries in regard to social progress, which is divided into three categories: Basic Human Needs, Foundations of Wellbeing and Opportunity. Each category consists of several indicators, a total of 50 indicators is measured. We had our system analyse the latest data and handpicked some of the most interesting results for you below.
---
Inspirient wins the Startups@Reeperbahn pitch competition
September 20, 2017
We are still amazed how our CEO Georg won the Startups@Reeperbahn competition last week. He was able to stand out against four other finalists with his pitch by convincing the top-class jury.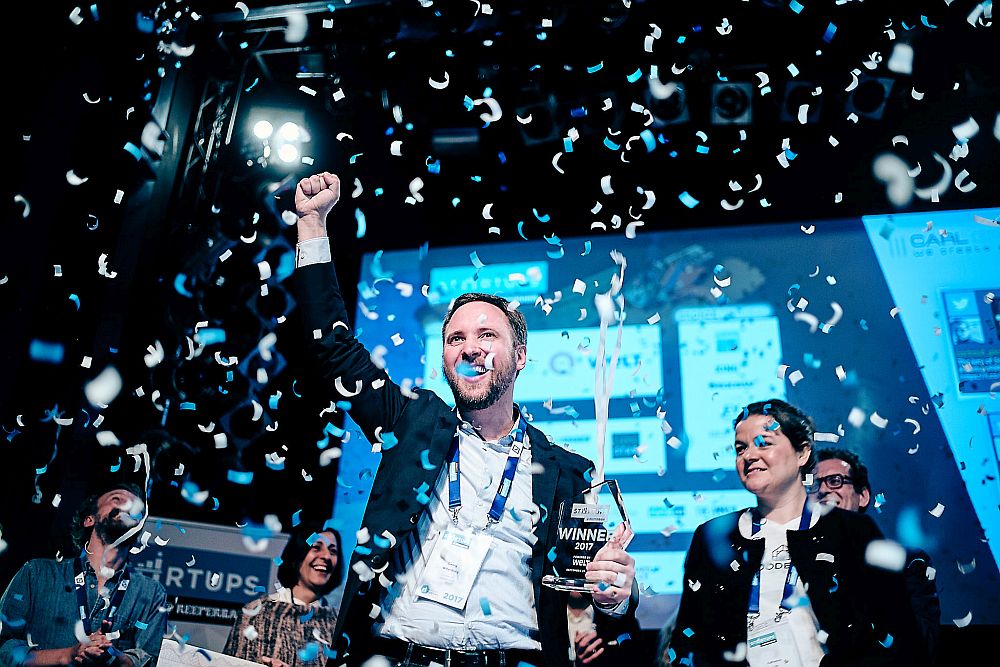 © Stefan Groenveld
We took home the Welt-Mediapreis of 100.000 € and we are super exited to have the opportunity to showcase Inspirient to the world! We would like to thank Hamburg Startups for organising this great event and after-party and all sponsors who made it possible. You can read more about the event and Inspirient here.
---
Inspirient made it into the final of Startups@Reeperbahn!
September 15, 2017
After a summer packed with developing we are slowly returning to business. First of all we are very exited to be one of 5 startups pitching in the final of Startups@Reeperbahn in Hamburg. We would be glad to meet you there on September 20th.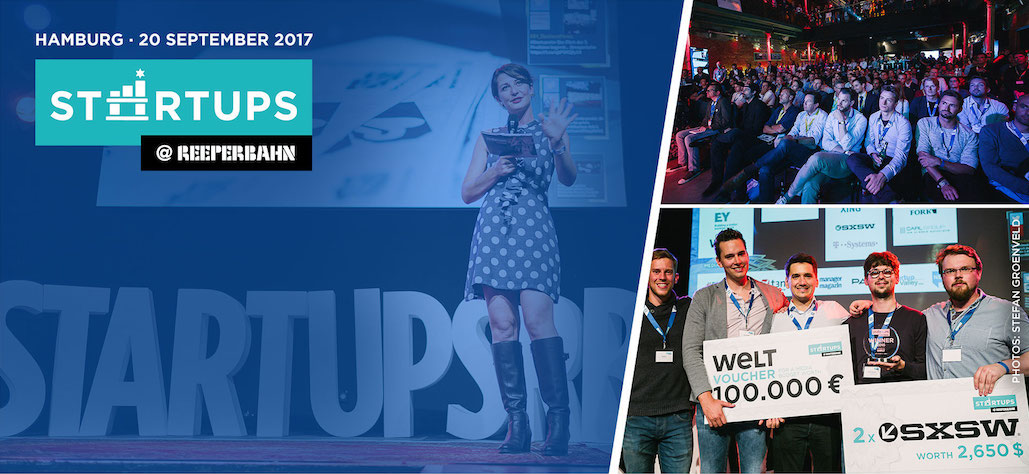 Besides this exciting competition coming up we also participated in two more amazing events: The Pirate Summit in Cologne and the Startupnight in Berlin. We met interested attendees from all over Europe and were especially glad to experience their interest in Inspirient and their enthusiasm for our vision.
---
Analysis of the month (August): News in the diesel emissions scandal
August 29, 2017
The US Environmental Protection Agency just recently published the 2017 fuel emission tests. Once again our AI was able to automatically identify car manufacturer patterns with regard to NOx and CO2 emissions.
This year it seems that German carmakers are doing their homework. In comparison to the 2016 emission test Audi and VW reduced emissions for several vehicles significantly, while Chevrolet is dominating with highest nitric oxide emissions.

Want to find out what our AI can find in your data? Sign up here for our free trial!
---
Analysis of the month (July): World Happiness report 2017
July 31, 2017
The World Happiness Report 2017 — which ranks 155 countries by their happiness levels — was recently published, so we decided to feed it to our AI to summarize the findings as easy-to-digest presentation slides.
Below you can find a small selection of automatically generated insights that we hand-picked from the results.
---
Analysis of the month (June): Fuel emissions by vehicle
June 15, 2017
With fuel emissions being a hot topic at the moment, we chose a dataset from the US Environmental Protection Agency concerning fuel emissions by car. Below you can see the insight that our AI recommended to us as most relevant out of the many findings it discovered. Note that nitric oxide (NOx) is of particular interest since the Volkswagen scandal and, it seems from the latest press releases of unofficial tests, Porsche could also be culpable. The German Transport ministry is now carrying out its own tests to validate the claims – so let's see if we will soon find the Porsche Cayenne among the top ten!
Would you like to see more results concerning emissions by car? Request a demo to see our AI live in action!
---
Inspirient wins BNP Paribas Hackathon in Berlin -- now to compete against the rest of the World!
June 13, 2017
Wow, what a weekend! We won the BNP Paribas International Hackathon in Berlin! A total of 160 Start-ups competed across 10 different cities for a ticket to the second phase of the competition -- and we qualified by winning the Berlin competition. We are now recovering from an exhausting weekend, and looking forward to compete with the other 27 Start-ups that made it into the next round, a list of the 28 can be found here.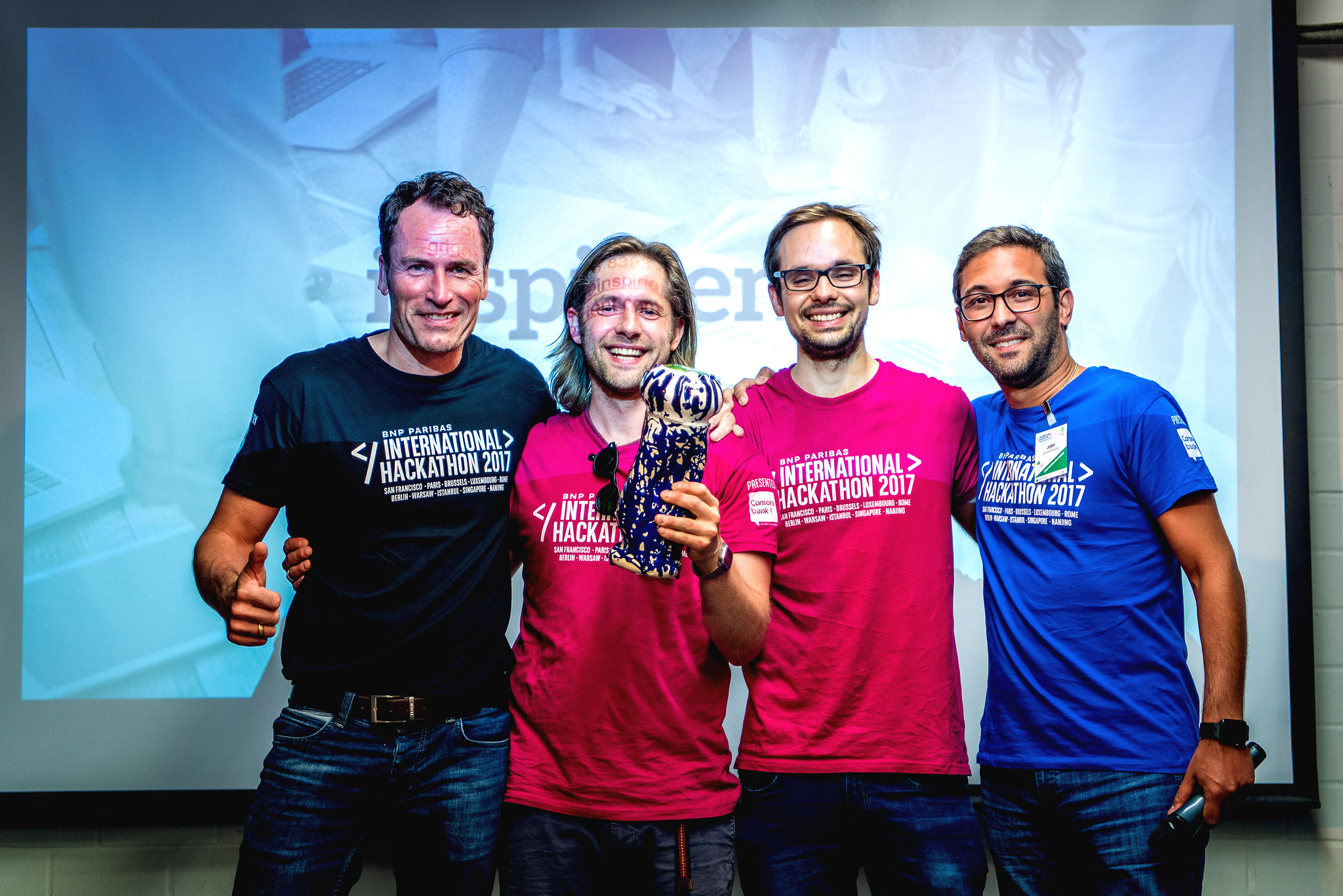 We convinced the jury by identifying and tackling a key problem: Manually analysing transactional data is costly, time-consuming and error-prone. On a data sample, provided by the BNP Paribas Open Bank Project API, we could already show that using Inspirient will reduce the risk of errors while saving time and cost. We are confident to prove this on a larger scale during the up-coming co-working phase in the next three months. We would like to thank the BNP Paribas experts for their time and the insightful exchange, that was key in enabling us to deliver a convincing business case for the pitch. We can't wait until December to battle it out with the other 27 Start-ups to show who has delivered the most value during their respective pilots!
---
Inspirient at Rise of AI and CUBE Tech Fair: Diverse visitors, a thrilling competition, and the Woz himself
May 31, 2017
These two fairs, taking place in parallel in Berlin, were packed with exciting moments for us – from giving a presentation at each event within an hour of each other to meeting the one and only Woz. We gave live demos of our AI to visitors from all over the world, and since we enabled an online registration to our 14-day trial shortly before the fair, we could see those people uploading heaps of data immediately afterwards.
We also found time to participate in the competition at CUBE Tech fair, where we narrowly missed the finals, coming second in our bracket out of some 250 participating startups. Meanwhile at the Deutsche Technikmuseum in Kreuzberg, we gave a live demo on the main stage at Rise of AI.
Last but not least we were super excited to meet Steve Wozniak at CUBE Tech fair, he truly is a role model to our developers and inspired us with the brilliant speech he gave. We are overwhelmed by all the interest the visitors showed in our product and want to thank everybody that stopped by.
---
Analysis of the month (May): Nuclear reactors in the world
May 22, 2017
This is the first episode of Inspirient's analysis of the month, where we feed our software with it's favourite dish: Big chunks of data. We started with the latest dataset of the International Atomic Energy Agency (IAEA) about nuclear power reactors in the world.
Around the world a total of 448 nuclear reactors are in operation, within the member states of the IAEA, generating a total net capacity of 391,116 MW. In 2016 those reactors produced enough energy to supply 419 million Europeans. As of December, 61 reactors were under construction. They will increase the net capacity by 61,264 MW. Of all IAEA member states most reactors can be found in the United States, with a total of 99, followed by France with 58 reactors and Japan with 42 reactors. These three countries therefore have also the biggest capacities to produce atomic energy. The United States with a capacity of 99,869 MW, France with 63,130 MW and Japan with 39,752 MW.
The two oldest nuclear reactors still in operation can be found in India, called Tarapur-1 and Tarapur-2, those two were connected to the grid as early as 1969 (the year of the Woodstock festival). In the same year four more reactors where connected to the grid, one in Switzerland called Beznau-1 and three in the US called Oyster Creek, Nine Mile Point-1 and Ginna. All of them are still operating. The generating net capacity of these six 69'ners sum up to 2,477 MW. Below, you can see a slide that was automatically generated by our AI, showing the average reactor age by country.
The average nuclear reactor age is highest in the Netherlands, as it has only one reactor that is 43.5 years old! The Netherlands is then followed by Switzerland with 41.8 years, Sweden with 38 years and Finland with 37.9 years. On average, the youngest reactors can be found in China, with 5.3 years.
Stay tuned for our upcoming analysis of the month! In the meantime, feel free to try out Inspirient on your own data under my.inspirient.com.
---
Inspirient at CeBIT 2017: Exciting conversations with visitors from business and politics
March 24, 2017
At CeBIT 2017, we presented our AI-driven solution for automated data analysis to a wide and diverse audience. We were represented at two booths for the first time, both at the SCALE 11 event and the Bitkom hub. Besides various attendees from start-ups to large enterprises, we were proud to welcome Ms Brigitte Zypris, Federal Minister for Economics and Energy, as well as Ms Sabine Smentek, Berlin's State Secretary for IT, at our booth. Both were very interested in the advantages of automated data analysis not only for corporations but especially for small and medium sized enterprises and public institutions as well as in the future interaction between man and machine.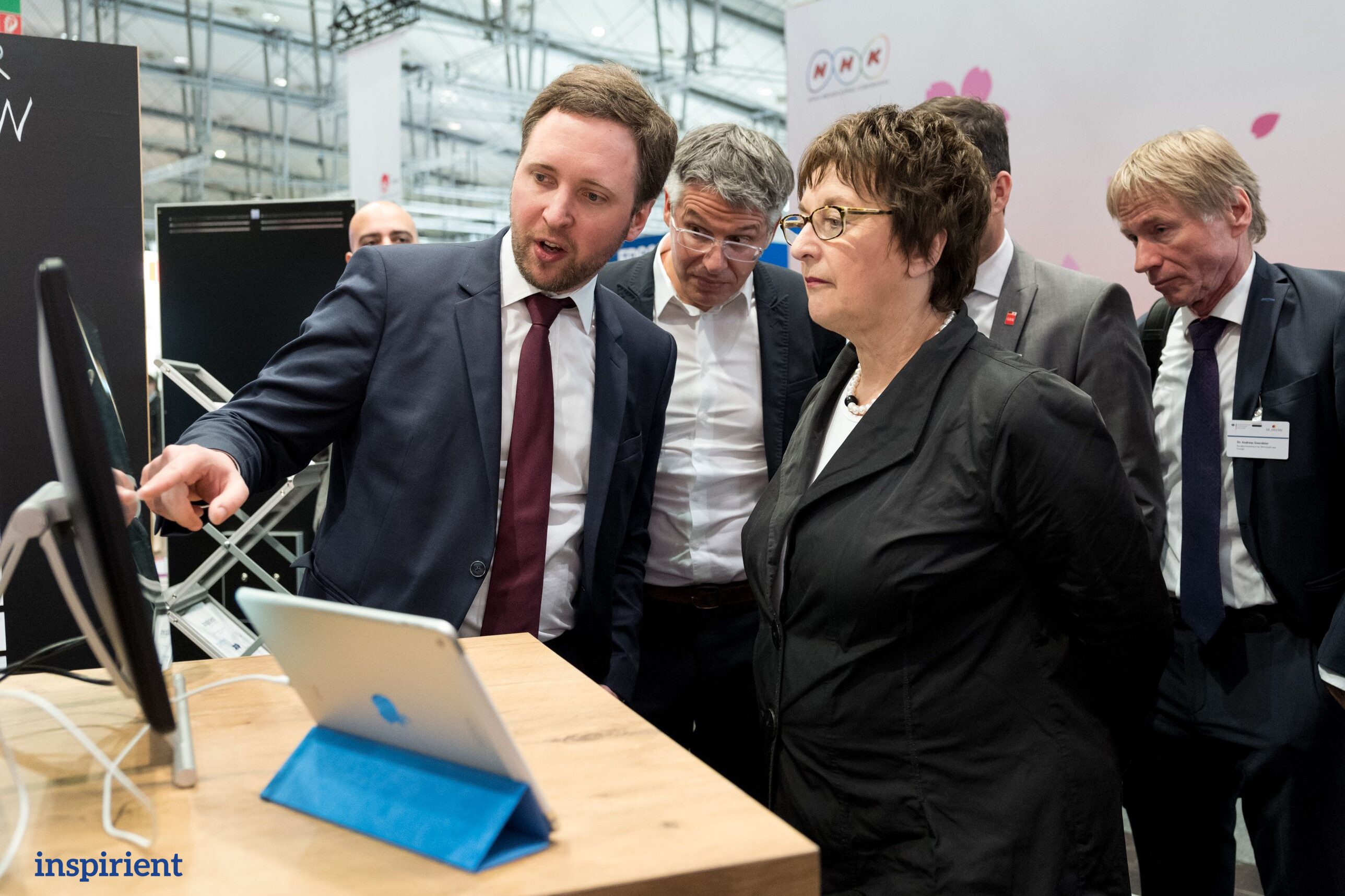 © Maurice Weiss
We were delighted to engage with several small and medium sized enterprises that had their datasets analysed live at CeBIT and are very happy about their positive feedback. We'd like to thank everybody who stopped by for the fruitful conversations; you turned our CeBIT 2017 into an awesome experience!
---
Inspirient wins the first BARC Start-up Award for Analytics and Data Management
November 9, 2016
We are truly happy to have won the BARC Start-up Award for analytics and data management. According to Dr. Carsten Bange, head of the Business Application Research Center (BARC), the jury and the audience were ultimately convinced by the complete package at Inspirient – a highly innovative idea, the technology, the marketing approach, the founders' personalities as well as the expected benefits for other companies.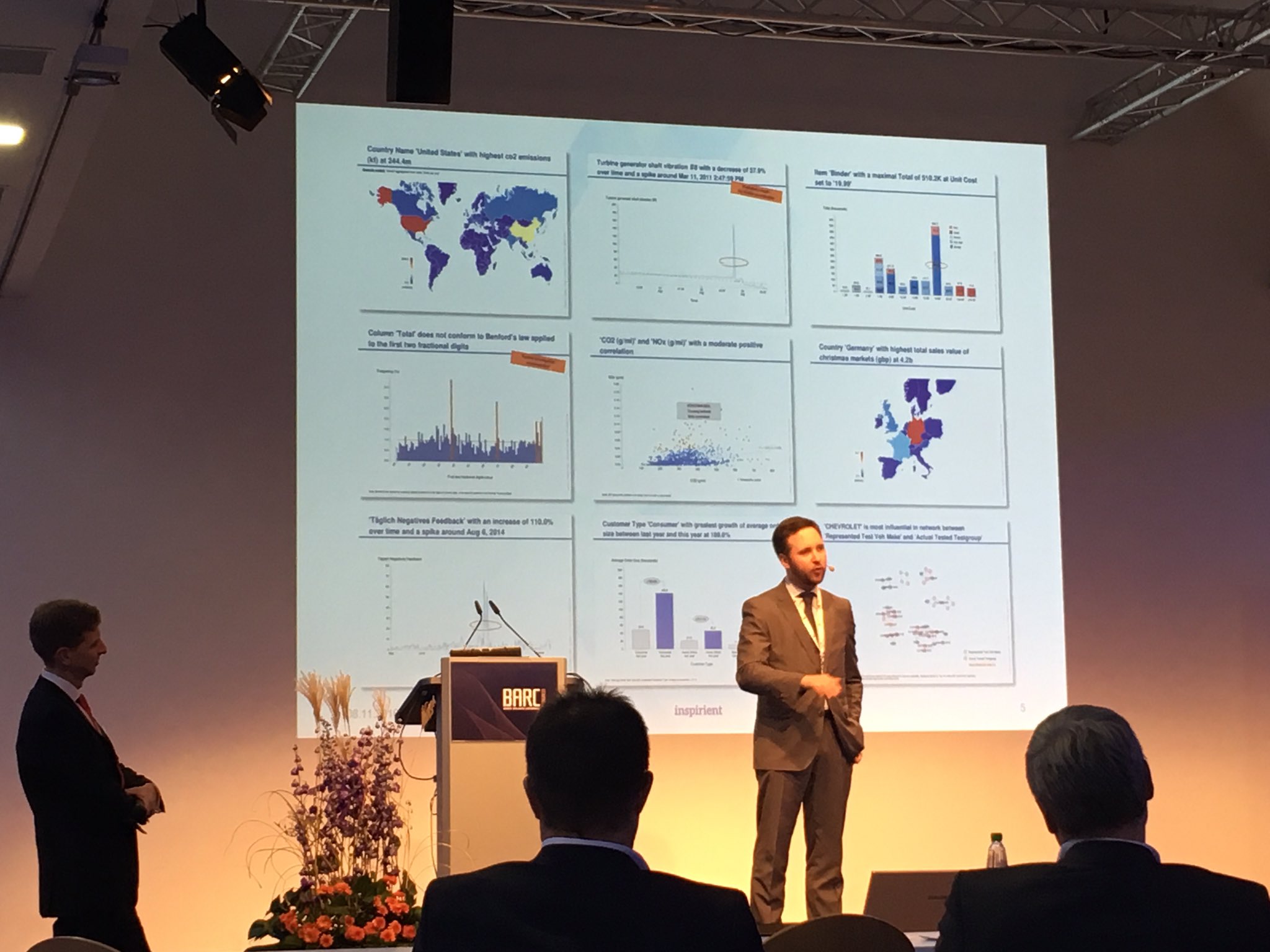 It might not seem obvious, but one of the hardest challenges German start-ups face is getting in touch with potential customers, as they simply do not have you on their radar. Thus, a big thank you to BARC for giving local start-ups the opportunity to showcase their innovative ideas resulting not only in increased visibility but also in receiving recognition and feedback from the business world.
---
Inspirient at Lange Nacht der Startups 2016: Major German companies are missing out on insights
September 7, 2016
At Die Lange Nacht der Startups 2016, Inspirient had the opportunity to present its solution for automated data analytics at the Deutsche Bank Atrium. Amongst many curious attendees, Inspirient welcomed interested employees from notable companies, such as Deutsche Bank, Volkswagen, Accenture and SAP, who wanted to learn more about the future of analytics.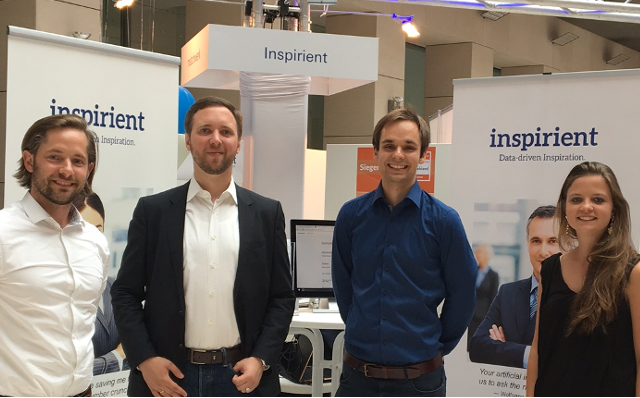 © www.startupnight.de, www.deutsche-bank.de
On this occasion we surveyed attendees at the Startup Night, asking them: "Think of the last data set that you analysed, how certain are you that you found the most relevant insights?". One manager replied: "I'm not sure new junior analysts are finding the most relevant insights under the tight time constraints we have". An analyst from the finance sector replied: "Of course we're missing out on insights!".
We wish to thank Deutsche Bank for hosting us, as we had some really great conversations with a broad range of people interested in automated business analytics.
---
The end of management reporting? CxOs want data analyses that lead to decisions.
March 16, 2016
According to a 2015 study by consulting company Capgemini, companies realize they desperately need to dig into big data analytics to maintain their business position. Of the 1,000 decision makers surveyed, 45% think their current IT systems and analytics do not fulfill their business requirements. 52% attest to existing IT systems constraining the speed of their companies' insight generation from data analytics.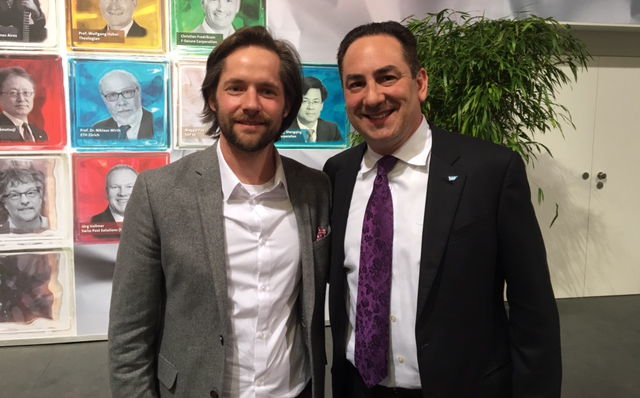 At CeBIT's CxO' Meetings, Inspirient met with top executives from Commerzbank, SAP, RWE, Deutsche Bahn and Scheer Group who questioned their current analytics approach, looking for better ways to use their data as a competitive advantage. All executives agreed, that no matter how advanced their BI infrastructure is, analyzing data only matters if it leads to decisions. Especially, as data scientists are an increasingly scarce resource and cannot provide one with ready-made solutions.
Therefore, participating executives were impressed by Inspirient's ability to automatically point managers to new, actionable insights in tabluar data. "Wow, this will empower my organization to ask the right questions and take decisions faster", one CEO said.
---
Inspirient presenting automated analytics to global executives at CeBIT BI-Tour
March 14, 2016
At CeBit 2016, Inspirient made its debut as part of the Business Intelligence guided tour alongside companies like Microsoft and SAP, focusing on solutions to help companies discover and communicate meaningful patterns in available data resources.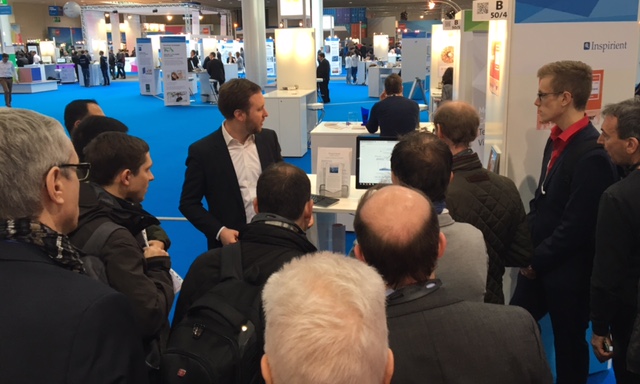 Inspirient was presented by co-founders Dr. Guillaume Aimetti and Dr. Georg Wittenburg to hundreds of eager executives seeking a data analysis solution to often costly and time consuming business data analytics. During the presentation, these executive were given a demonstration on how the artificial intelligence behind Inspirient automatically analyzes structured data sets and provides presentation-ready business slides - without the need for any technical skills.
The notable highlight was exhibiting how quickly and easily Inspirient can find relevant insight in companies' business data. All with the usability of the Web and the security of the Cloud. "This is the first drill down a manager understands!" said a curious attendee.
---
Awarded: Inspirient wins INNOVATIONSPREIS-IT 2016
March 14, 2016
At CeBIT 2016, Initative Mittelstand — an association of industry experts, scientists, IT professionals, and IT journalists — awarded Inspirient as winner of the INNOVATIONSPREIS-IT 2016 in the category "Business Intelligence".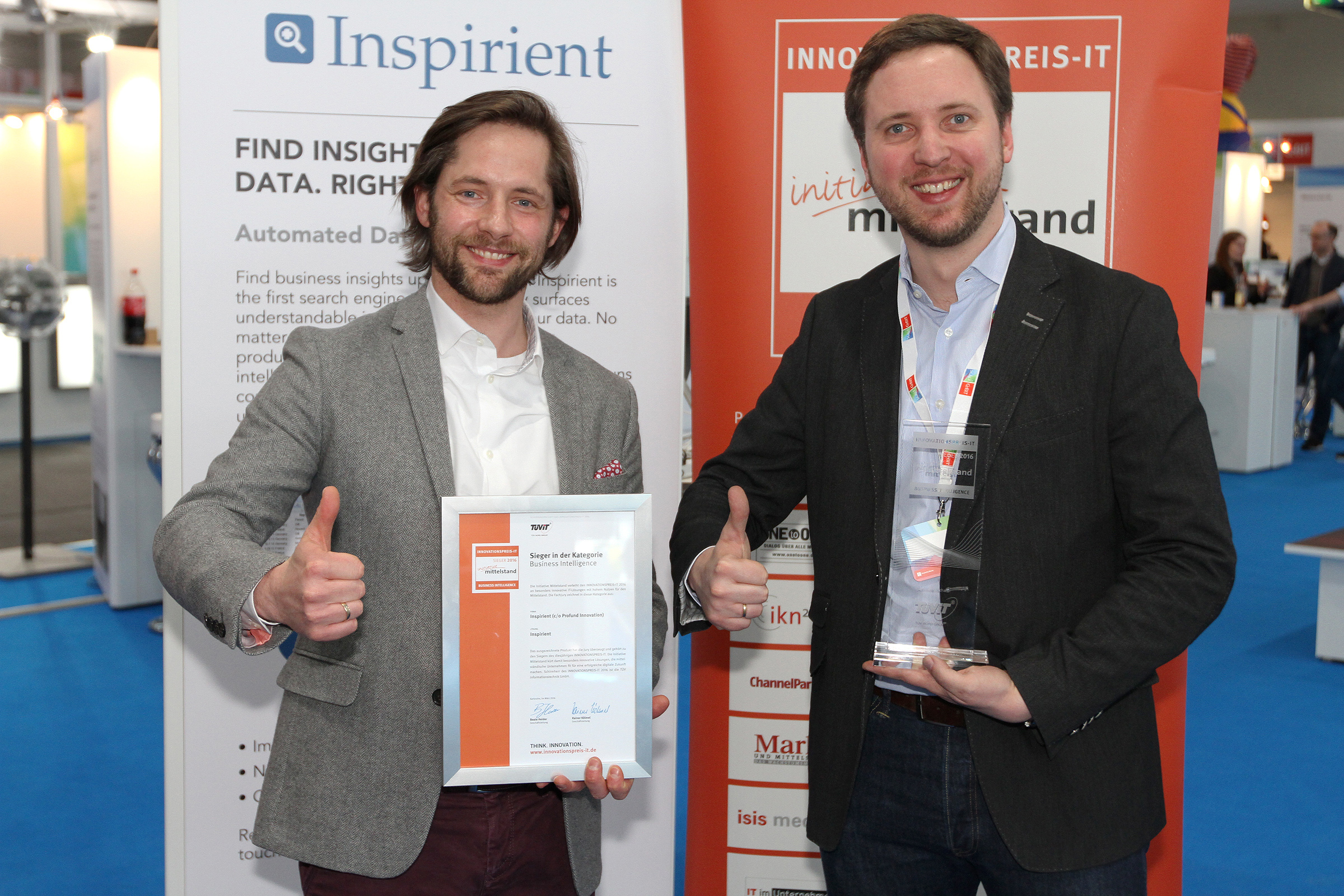 The jury awarded us for our novel, innovative, intuitive, and tech-free approach to derive actionable insights from data and for the high value that Inspirient creates for decision makers.
We are proud to be the leading Business Intelligence solution at CeBIT and would like to thank everyone who contributed to this success!
PS: Visit us until 18th of March at CeBIT, Hall 11, Stand B50(4) to see our award winning solution in action!
---
Introducing Inspirient
November 25, 2015
We have a bold vision for business analytics. We see data as the muse that inspires business leaders to take action. Now we also have the name to live up to this promise. Introducing Inspirient.
"Insightfully" and "insightfully.io" have served us well while kicking off this project over the past two years. Now, we are moving to www.inspirient.com and renew our commitment to making analysis of any dataset fast, comprehensive, intuitive, and collaborative.
---
At IFA TecWatch 2015
September 6, 2015
We had a great day today exhibiting at IFA TecWatch, IFA's future lab that showcases pioneering innovations presented by research institutions, industry organizations, and start-ups.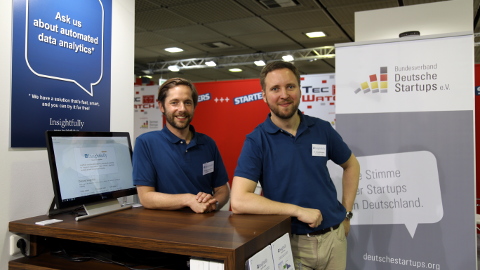 Our pitch was well received, with multiple follow ups at our booth. Making sense of the increasing volume of data in our everyday lives seems to strike a chord, even at this consumer-focused event. Thanks to everyone for the great conversations and your interest in what we do!
---
Guillaume Aimetti joins Insightfully as co-founder / CTO
August 25, 2015
We are very happy to announce that Dr. Guillaume Aimetti will join Insightfully as co-founder and Chief Technical Officer.
Guillaume has a background in both Machine Learning, having done his Ph.D. in this field, and business analytics, from his recent work as consultant and data scientist at a German multi-national. At Insightfully, he will lead the development of our automated data analytics platform.
---
Insightfully among finalists of Businessplan-Wettbewerb Berlin-Brandenburg
April 28, 2015
Insightfully is among the finalists of the second round of new business ideas at Businessplan-Wettbewerb Berlin-Brandenburg. Selected from 136 submissions to this round of the annual competitions, we were invited to pitch our idea at the event held at Berlin Postbahnhof.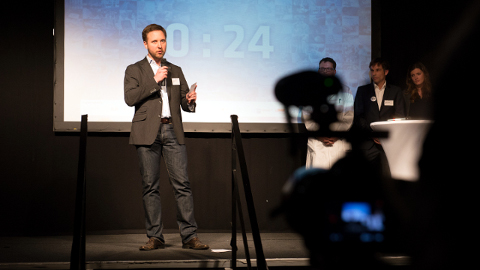 Feedback to Insightfully's idea and value proposition was very positive, perhaps best summed up in the words of one of the jury members: "This is a business model for the Silicon Valley!"
---
Analytics as easy as the web: Recommendations, tags, and social bookmarks
April 23, 2015
Since their inception, Business Intelligence (BI) and analytics in general have been defined by the tools that were available at any given point in time. Tools have come a long way over the past two decades: textual SQL database queries have evolved by into more accessible graphical user interfaces, deep knowledge of statistical functions is slowly being supplanted by emerging support for natural language queries.
This is all great news—except that at Insightfully we think one can do better. Today, we are launching our refined user interface (UI), inspired by wide-spread and well-known usability metaphors from the web.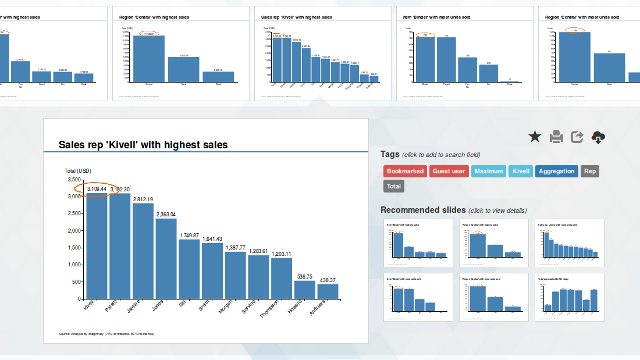 This new interface incorporates the following features, all of which leverage the capabilities of the Artificial Intelligence (AI) core of our technology:
Recommendations – similar to the shopping experience at Amazon, Insightfully now recommends analysis results to you which our AI thinks are relevant to you
Tags – similar to the search experience on picture sharing sites such as Flickr, Insightfully now automatically tag the analysis results from your data to make it even easier to find relevant insights
Social Bookmarks – similar to the social bookmarking service Delicious, Insightfully now allows you to bookmark and share insights with your team
These enhancements complement Insightfully's existing capabilities relating to searching and sharing insights within minutes of submitting your business data for analysis.
We hope these new features make your analysis and decision making processes even more efficient. Let us know how they work for you at feedback@insightfully.io
---
Analytics will never be the same: Insightfully launches tech preview
November 8, 2014
At Insightfully, we are building the self-driving car of business analytics—a service that does the analysis for you, while you cherry-pick the slides that matter most to your business.
We are setting out to liberate all data analysts and consultants from manually calculating KPIs, pivoting tables, and looking for hidden trends or correlations. We help managers to get more out of their team of highly qualified analysts by employing cloud-based Artificial Intelligence (AI) technology in order to achieve end-to-end automation of widely used analytical methods.
As of today, November 8, 2014, we are very happy to take our technology beyond internal testing and focus group sessions: We are launching the public tech preview of Insightfully at insightfully.io.